Dwight's Story
About Still Standing
They say if you want to make God smile, tell him you have a plan. Dwight's plan was to live his
dream; teach and coach football; and build a comfortable life for himself. Fate had other things in
store for him.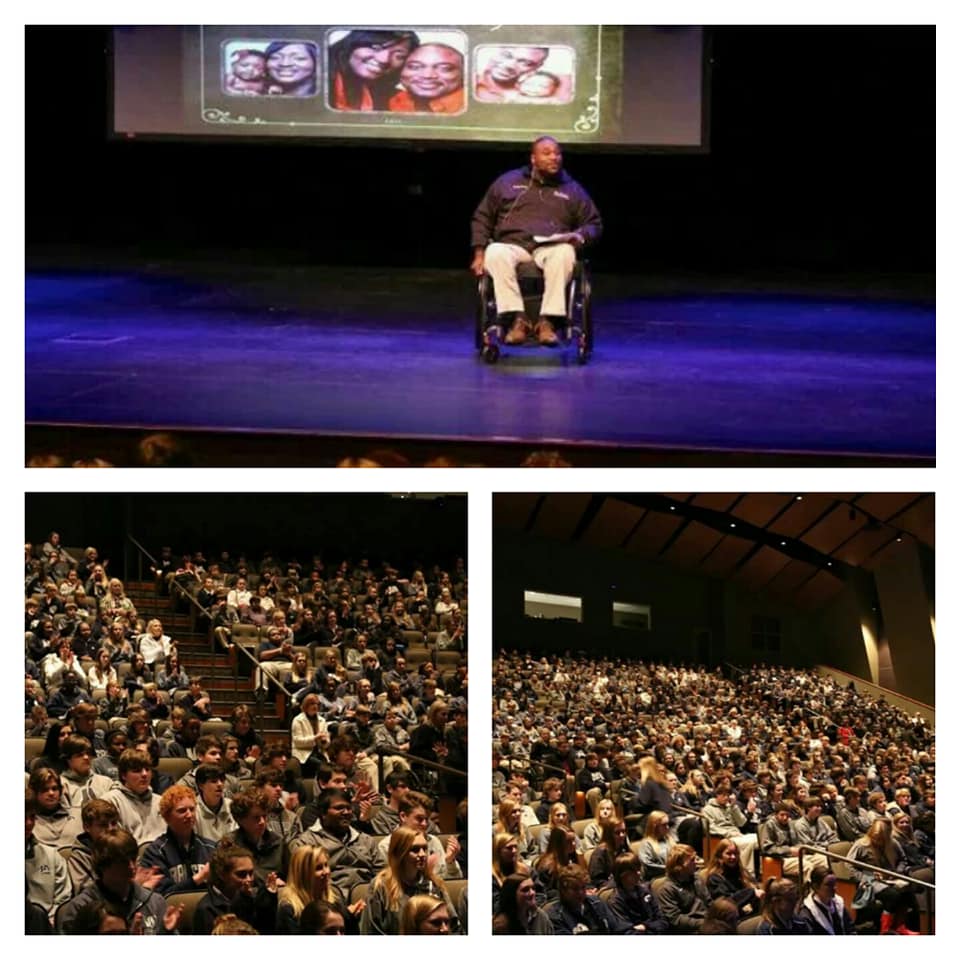 How it all started...
Dwight Owens
In 2005, at the age of 23, Dwight was in a horrible car accident. After only 2 years of teaching, a 72-year-old drunk driver crashed into Dwight's vehicle and his life was changed forever. Dwight stayed in the hospital almost a year through life support, ICU, and rehab fighting for my life. I am a miracle! Dwight had broken bones, punctured lungs, a broken back, brain trauma, a severed spinal cord, and a lifetime of paralysis ahead of him. He is permanently paralyzed from the waist down. In fact, Dwight coded immediately after the accident and the doctors gave him no chance to survive. But survive he did, and what could have become a life of depression, self-pity, and bitterness has instead transformed into one of uplifting courage, self-reliance, and forgiveness.
After surviving life support and an entire year in the hospital, Dwight found the courage to turn tragedy into triumph, and he has become a motivational speaker sought after nationally. After a two-year interval filled with countless surgeries, medical setbacks, and a grueling rehabilitation regimen, Dwight was restored to sound health and looking to make a contribution to the world. He was approached by several churches, school groups, communities, and rehab organizations and asked to tell his story.
``Before you Drink, Think Dwight``
After the Accident
After spending almost a full year of my life in the hospital fighting for my life, God brought me back from the brink of death. I was declared a miracle. For that reason, despite my circumstances, I wake up every morning with unbelievable joy with a goal to make each day count for something!
There is no better way to do that than to help others look forward to their tomorrows. Life has so many different chapters. One bad chapter doesn't mean it's the end of the book. The struggle you're in today is developing the strength you need for tomorrow. Challenges are what make life interesting. Overcoming them is what makes life meaningful. Life doesn't have to be perfect to be wonderful. Stay encouraged!
Dwight entitled his first speaking tour "Before You Drink, Think Dwight." Word seemed to spread, and he was soon speaking publicly three times or more a week. He has given some 1000+ presentations and shared his story with 500,000+ people. He started other tours like "Pain into Purpose" to help others overcome obstacles and find purpose. There is no limit to where he will go to bring joy and hope to others. Dwight takes service seriously. He has inspired countless thousands, and no doubt saved many lives through his speaking endeavors, volunteer efforts, and more.
He is especially passionate about transforming lives, which includes mental health awareness/suicide prevention, alcohol & substance abuse prevention, disability awareness, and more. For several years, Dwight was an ADA (Americans with Disabilities Act) Specialist, where he proudly helped companies remove inclusion barriers and implement ADA.
``Before you Drink, Think Dwight``
After the Accident
He also started support groups and currently continues to mentor newly injured individuals. He is well known in the disability community an advocate and currently partners with agencies like the MS Department of Rehabilitation Services and the ARC of MS to continue pushing hope and resources into the disability community. As a result of Dwight's service, many people with disabilities and beyond are active, productive members of their communities. Says Dwight: "There are no guaranties in life, and it can change on a dime. All I know is that you have to face things head on, put them in the best possible light, and help others every chance you get." Dwight is also a Substance Abuse Prevention Manager. He has received numerous local and national awards for his service, including the National "Spirit of Service," a ceremony at Radio Music City Hall hosted by Al Roker. He recently graduated with his MBA, receiving the "Spirit of Business" award through The University of Southern Mississippi. He is currently at USM studying to receive his Doctorate in Educational  Leadership. He remains active nationally on the speaking circuit. He is also known for his inspirational memoir, "Still Standing." The book has inspired and given hope to many people. In addition, Dwight continues to be a disability advocate and more.
In 2007, Dwight married Tamika, the love of his life, and the couple had their first child, Brailey Samara Owens, on 12/12/12. Still Standing Consulting LLC is a family venture. Tamika and Brailey are often seen on the road providing service and making each day count for something. Giving is a lifestyle. Dwight says, "Life doesn't have to be perfect to be wonderful. God has a plan for all of us, and we all have challenges to face. He also gives us the strength and resources to overcome those challenges."
Sponsors & Supporters
Special Thanks
Get in Touch
Please send us a question or information about your inspirational story.